About Us
Welcome to A&K (AK4 Tuning)!
LED Headlight Assembly, LED Tail Light Assembly etc car lighting accessories of remarkable brands like A&K,  improve your car performance and make your car and truck difference!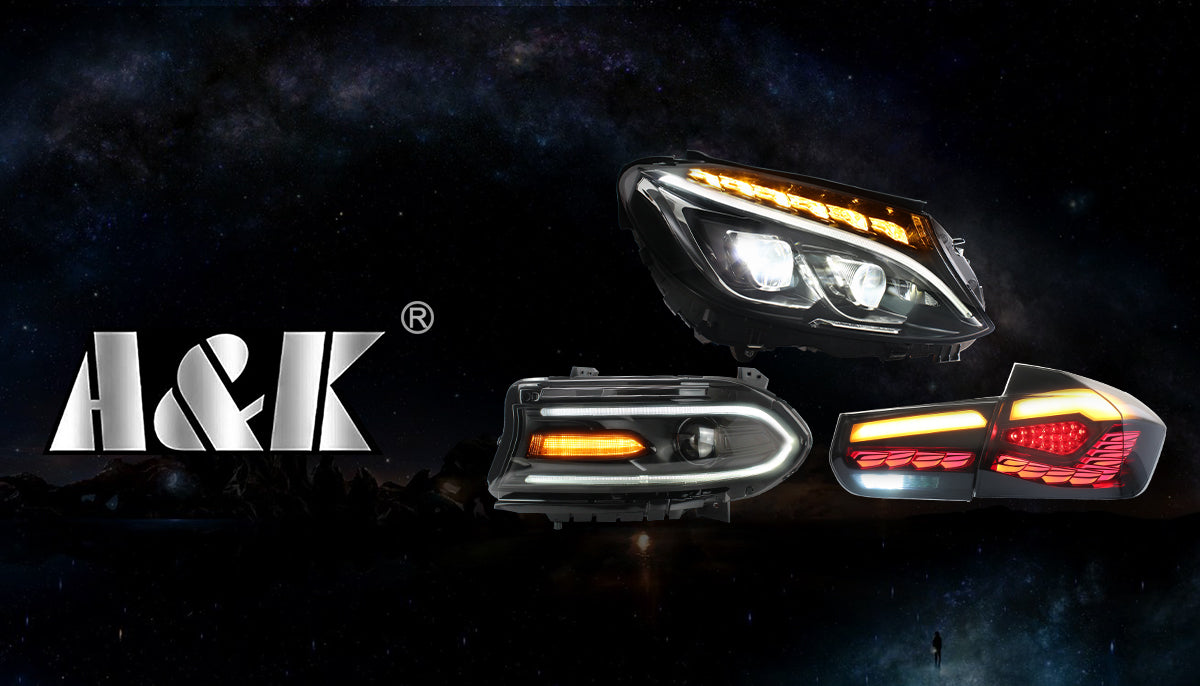 Our Team Introduction
A&K (AK4 Tuning) team It has been committed to the car accessories field, connecting different brands, adhering to the professional service level in the pre-sale and after-sale, and has a professional business in the global sales, including the Amazon sales team, ebay sales team,Shopify sales team and after sales colleagues, which supported by mostly manufacturers in China with 5-30 years' experience coupled with worldwide researching and developing team in exterior accessories field.

Our experiences cover LED Headlight Assembly , LED Tail Light Assembly by American trucks and Euro-American cars models by different brands.

Such as  "A&K Full LED Headlights Assembly For Mercedes Benz W205 C300 C-Class 2015-2018" , "A&K Full LED Headlights Assembly For Dodge Charger 2015-2019" , "A&K Full LED Headlights Assembly For 10th Gen Honda Clvic EX/ LX/ Sport/ Touring/ Si/ Type R2016-2020 (Lamborghini Style)" , "A&K Full OLED Tail Lights Assembly For BMW M4 F32 F33 F36 F82 F83 2013-2018","A&K Full LED Tail Lights Assembly For BMW 3 Series G20 330i/330i Xdrive 2020-2021(Smoked)".

A&K (AK4 Tuning) team are devoted to serve our clients by the best purchasing experience of our products online!
Sales Team
A&K (AK4 Tuning) sales team lists full information of our products and service literally and visibly, offering you enough information to make a reasonable purchasing choice.
We guarantee all the pictures on the Amazon, eBay and our website are of the actual items you will receive. Moreover, they may look better than in the pictures as like the LED Headlights Assembly and LED Taillight Assembly. Most of our customers are pleasantly surprised when they receive our products, and send us testimonials to tell us just how pleased they are.


After-sales Team
A&K (AK4 Tuning) after sales team will be ready serve you once you get the products, normally they will facilitate you to install properly if you need. Furthermore, they may assist you to complete some little adjustment for your unique car. 
R&D Team
A&K (AK4 Tuning) researching and developing team welcomes our clients share developing ideas about our products, we may make it happen if the idea upgrade the function or look, we may use your name to name if you like for the new products. Normally our distributers advise in LED Headlight Assembly and  LED Taillight Assembly development. We welcome car owners, final consumers to join our development!
A&K (AK4 Tuning) also keep our customers' personal information strictly confidential. So just go ahead and buy auto parts online with confidence on our A&K (AK4 Tuning) website.

Our Advantages
1. Our team is devoted to offer a remarkable online purchasing experience for you!
2. Our team is professional in vehicle nerf bar, vehicle lighting performance brands such as LED headlights assembly, LED tail lights assembly brands for 11 years.
3. Our A&K manufacturers long-term cooperation make us work like ONE TEAM
4. We make our customer's idea into a physical product.
5. Complete information save your purchasing time, lowest risk.
6. Local Warehouse in United States , 24 work hours handling your order, Delivery guaranteed.
7. Reliable and quality products, there are always new products, new options for you.
8. Considerate tiny accessories come with main goods.
9. Discount price come with top-branded OEM artificial products.
10. Easy Order System-No registration required!
11. Multiple online stores: Amazon/eBay/Shopify by different brands. 
12. Support live chat, we have experienced and professional English-speaking customer service.